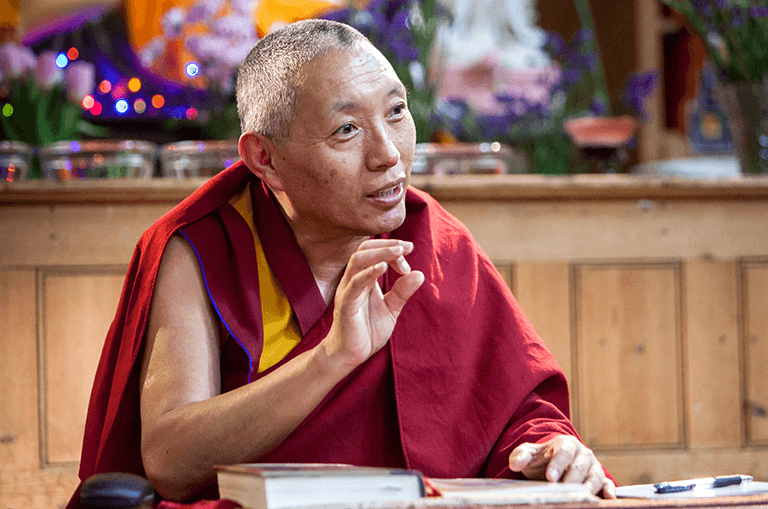 Lharampa Geshe Tashi Tsering
Geshe Tashi was born in Purang in the far West of Tibet and fled to India at a very young age with his parents. In 1988, he graduated from Mey college of Sera monastery, as one of the first monks with the highest honour, that of the Geshe Lharampa degree.
In the 1990s he came to Europe to teach in Buddhist centres of the Foundation for the Preservation of the Mahayana Tradition http://www.fpmt.org, first to Nalanda monastery in France and then Jamyang Buddhist Centre London.
He has been based at Jamyang Buddhist Centre for over 20 years now where he has developed a FPMT foundational Study course known as the Foundation of Buddhist Thought.
Introduction to Tantra
Tantra is described as the quickest path to Enlightenment in Buddhist practice. Upon entering the tantric path, it is of great importance to first have a good foundation in Sutras, as well as proper guidance by a qualified Tantric Master throughout the entire path.
Westerners might have many questions about Buddhist Tantra, when they first encounter the colourful tantric images and read the veiled language in tantric texts. With his extensive knowledge and experience, Geshe Tashi will explain the meaning and symbolism of the tantric deities, mandalas and tantric initiations, as well as giving introduction to the various types of Tantra and stages of tantric development. There will be possibility to ask questions about this profound subject in the Tibetan Buddhist tradition. Geshe Tashi will also go through a simple tantric compassion practice written by the Dalai Lama, using it to unpack the building blocks common to all such visualization techniques.
The course is introductory and suitable for both beginners and long-time practitioners.
For this weekend course, we can recommend you a book, covering the subject introduction to Tantra, written by Geshe Tashi Tsering, Tantra: Volume 6 the Foundation of Buddhist Thought.
You can also buy this book at our Association, Föreningen för Tibetansk Buddhism I Göteborg for 150 kr.
Course fee: 650 kr members (750 kr non-members)
Register by mail to katja@tibetanskbuddhism.se or SMS to: 0727 – 053 010.
Fee should be paid at least one week in advance to the PG of the Association 831 87 20-3.
For more information, please email to katja@tibetanskbuddhism.se
The course will be taught in English at Föreningen för Tibetansk Buddhism I Göteborg (Association for Tibetan Buddhism in Gothenburg). http://tibetanskbuddhism.se