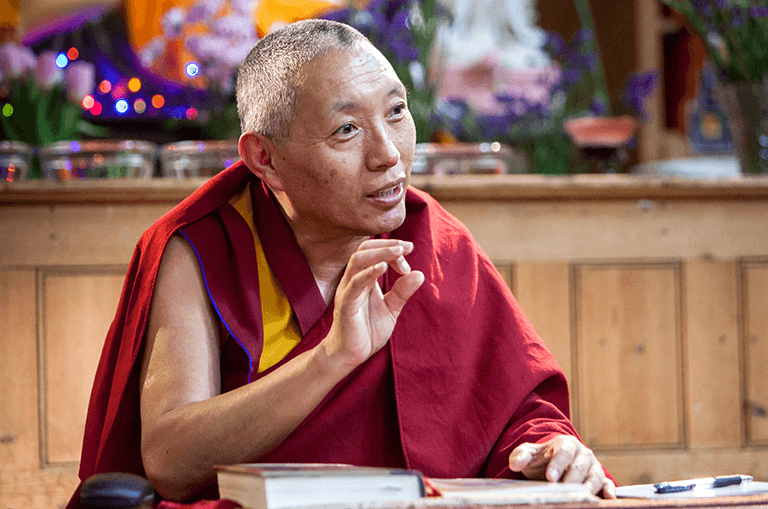 Lharampa Geshe Tashi Tsering
Geshe Tashi was born in Purang in the far West of Tibet and fled to India at a very young age with his parents. In 1988 he graduated from Mey college of Sera monastery, as one of the first monks with the highest honour, that of Geshe Lharampa degree.
In the 1990s he came to Europe to teach in Buddhist centres of the Foundation for the Preservation of the Mahayana Tradition http://www.fpmt.org, first to Nalanda monastery in France and then Jamyang Buddhist Centre London.
He has been based at Jamyang Buddhist Centre for over 20 years now where he has developed a FPMT foundational Study course known as the Foundation of Buddhist Thought.
Heart Sutra and Emptiness, by Geshe Tashi Tsering, 25 – 27 May 2018
Heart Sutra is one of the most studied, read and recited Mahayana Sutras within all the different Mahayana traditions. In Tibetan Buddhist tradition it is not only recited by individuals or in groups but its meaning has been very through studied. There are many commentaries on this Sutra, which are written by Indian and Tibetans great masters.
Its main subject is " Emptiness", which is one of the most important realities to be understood to follow Mahayana Buddhist spiritual path. Understanding of Emptiness brings an end to all the afflictive emotions and together with developed Bodhicitta, the mind of Great Compassion leads to full Enlightenment. Through studying the profound text of the Heart Sutra, we will get a deeper understanding and insight into the subject of Emptiness.
Friday 25 May, 18.30 – 20.30
Saturday 26 May, 10.00 – 17.00
Sunday 27 May, 10.00 – 17.00
Course fee: 650 kr members (750 kr non-members), Friday evening only 150 kr
Register by mail to katja@tibetanskbuddhism.se or SMS to: 0727 – 053 010.
Fee should be paid at least one week in advance to the PG of the Association 831 87 20-3.
For more information, please email to katja@tibetanskbuddhism.se
The course will be taught in English at Föreningen för Tibetansk Buddhism I Göteborg (Association for Tibetan Buddhism in Gothenburg). http://tibetanskbuddhism.se